Chapter Structure
Boston DSA is a democratic, non-hierarchical organization, so our structure may be confusing and not intuitive to folks. Our work is accomplished by a number of interlocking parts: Working Groups, Committees, Identity Caucuses, Neighborhood and Regional Branches, and the Coordinating Committee. And at the heart and core of all is we do is our membership.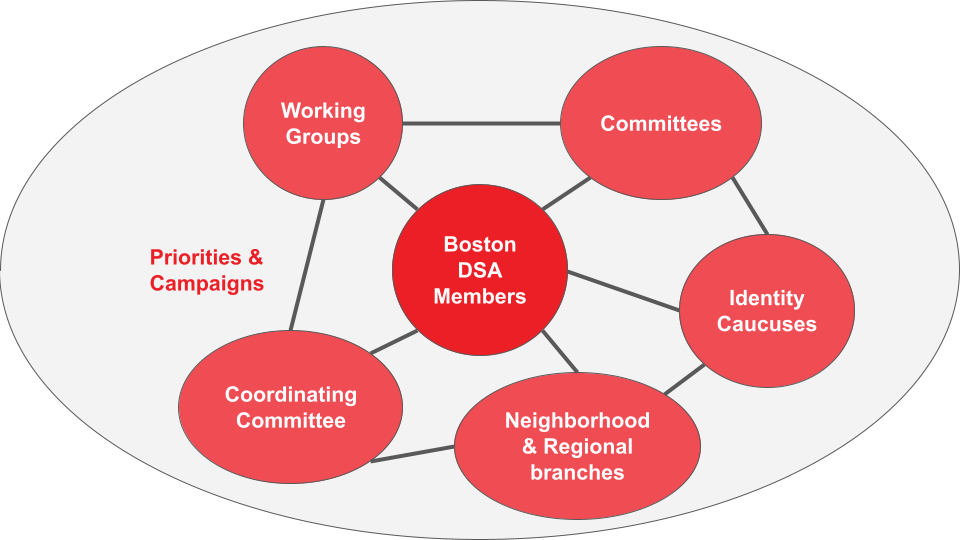 Working Groups
 Boston DSA has a variety of working groups for you to be involved in, whatever your interests. Working groups organize around particular issues and engage in the external political work of the chapter. Activities undertaken by working groups include running electoral campaigns, organizing tenants, showing up at picket lines, and much more.
Click on a working group below to learn more about that group, their current projects, and how to get involved.
Committees
Committees are where we do work internal to the chapter to keep it running smoothly. Committee work is only available to chapter members in good standing, as the work often involves access to internal administrative infrastructure such as member lists.
Identity Caucuses
Identity caucuses are affinity spaces hosting social events for members who share particular identities. Currently, there are two active caucus in our Chapter: AfroSocialists and Socialists of Color Caucus (AfroSoc) and the Queer Caucus.
Neighborhood Groups & Regional Branches
Boston DSA spans all of Eastern Massachusetts (east of Worcester County), other than Cape Cod. Because we have a large territory, some cities and neighborhoods within it have their own elected leadership, mailing lists, campaigns, and discussion groups to focus on local issues. All members of these regional branches and neighborhood groups are members of Boston DSA.
Regional Branches: Merrimack Valley, North Shore, South Shore, MetroWest, Waltham
Neighborhood Groups: East Boston/Chelsea, Medford/Malden, Somerville, Cambridge, Allston/Brighton, Brookline, Dorchester/Roxbury, Jamaica Plain/West Roxbury/Roslindale
When you join Boston DSA, you are automatically added to the mailing list for the neighborhood or branch that you reside in based on the ZIP code associated with your membership.
Coordinating Committee
The Coordinating Committee is a group of 11 individuals who are elected to their positions annually in April and are responsible for overseeing the necessary administrative work to make our volunteer chapter robust and effective. They act to coordinate among our committees and working groups when necessary and address recognized problems of process within the chapter.
The Coordinating Committee meets twice a month and its meetings are public and open to all Boston DSA members. They can be reached at leadership@bostondsa.org.