Labor solidarity is at the core of democratic socialist politics. Without a strong and organized working class movement, we can't hope to build the power necessary to challenge capitalism. To that end, the Labor Working Group works to identify ways DSA can support our comrades involved in local labor struggles, to talk with DSA members in unions about what it means to be a democratic socialist in the labor movement, and to work with new DSA members to help form unions in their workplaces.
Related News & Updates
Below you'll find recent updates from the Labor Working Group and articles from Working Mass.
Working Mass is a collaborative project of many Massachusetts DSA chapters and working groups, including Boston DSA's Labor Working Group, Cape Cod DSA, and Worcester DSA. Read more on their website.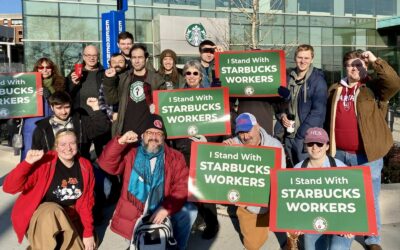 By Vanessa Bartlett At the start of the holiday season, unionized Starbucks workers at hundreds of stores went on strike to demand that Starbucks sit down at the bargaining table with workers. Community members also mobilized to hand out fliers in front of non-union...