Internationalism Working Group
The Internationalism Working Group aims to build global solidarity for global liberation. We oppose globalized capitalism, imperialism, militarism, settler colonialism, and all forms of oppression wherever they occur. Capitalism is global — to defeat it, we must be too.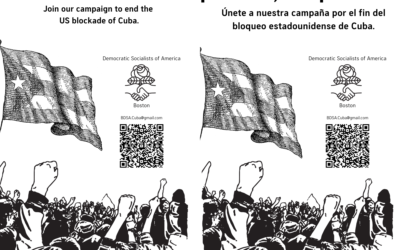 Campaign to End the Cuba Embargo Boston DSA's Internationalism WG is at the forefront of a national effort by DSA chapters to end the Cuba embargo. In 2022, the Internationalism WG and its coalition partners successfully passed resolutions condemning the embargo in...