Who We Are
Boston DSA is the Eastern MA chapter of Democratic Socialists of America .
We are working against the oppressive capitalist system in its many forms. We see these oppressions — economic inequality, patriarchy, white supremacy, to name a few — as interlinked, intersecting, and inseparable.
Join us in building mass movements for the world we deserve and growing an openly socialist presence in communities and politics in the Greater Boston Area.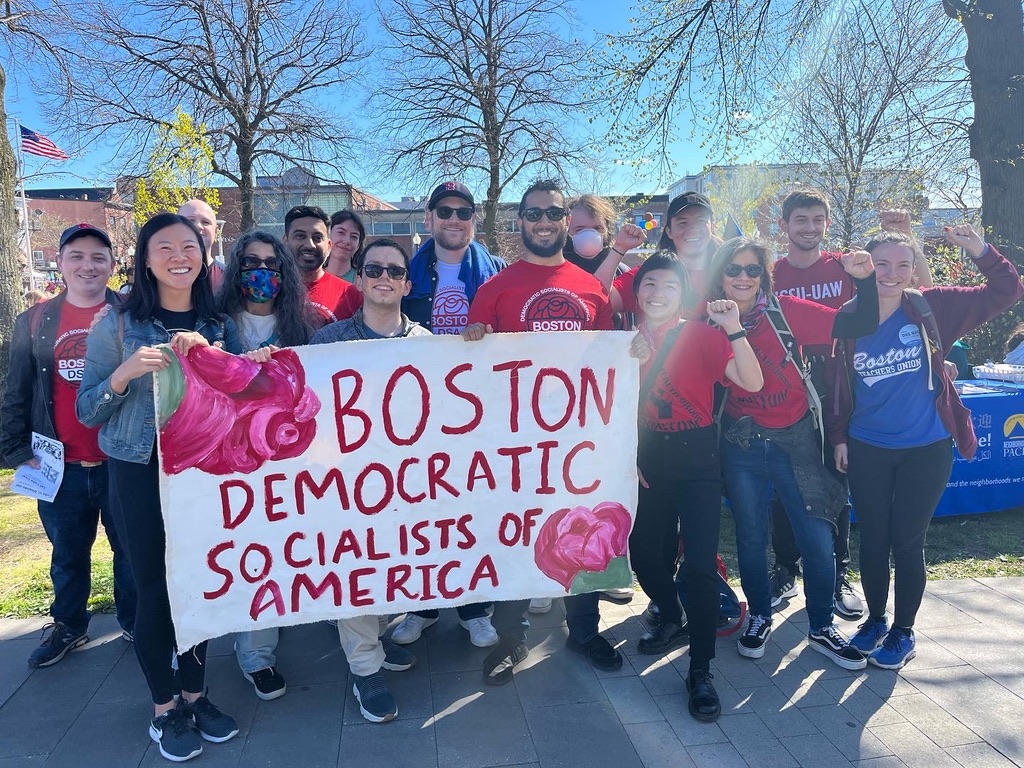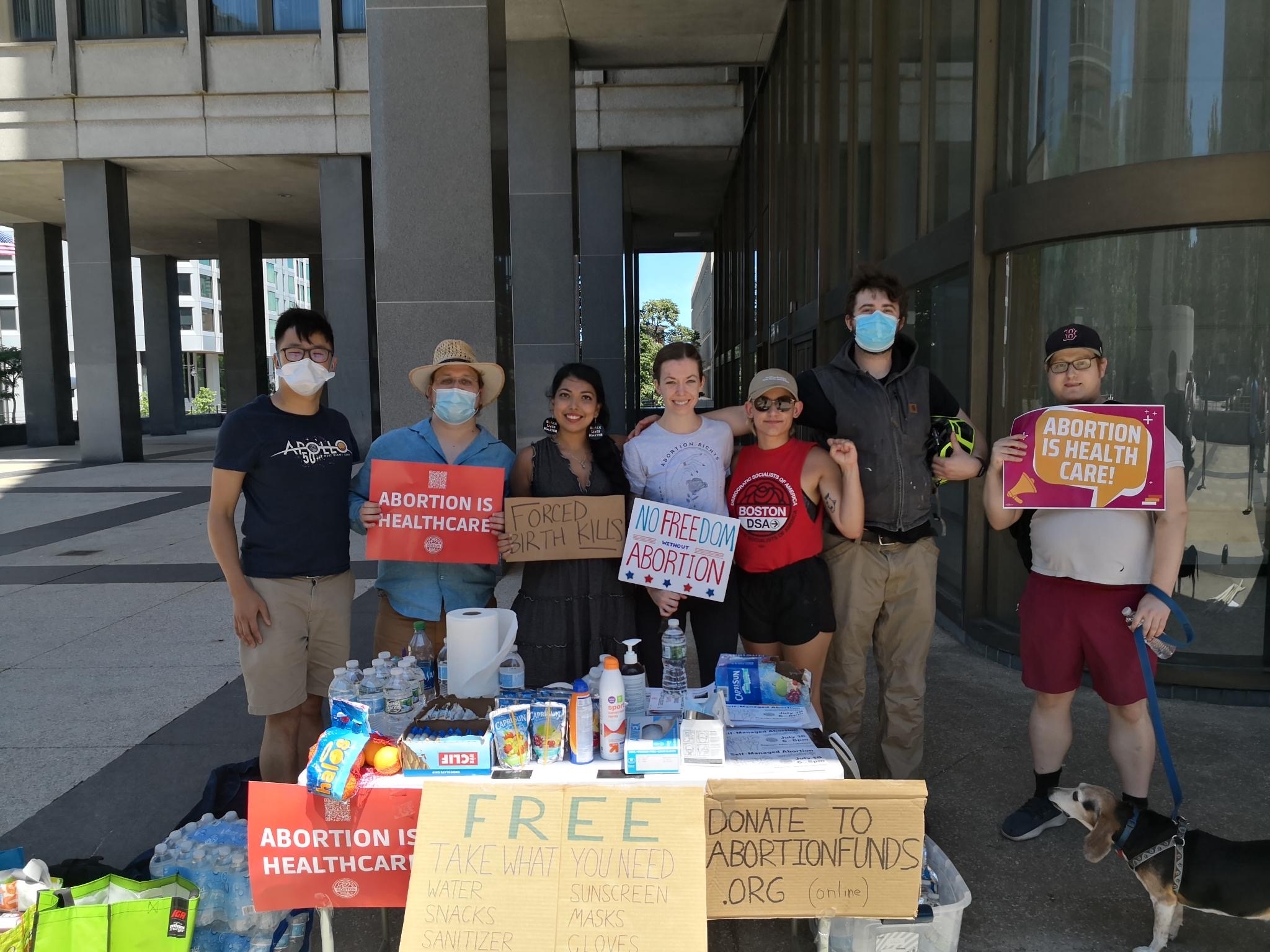 Join a 2023 Chapter Priority Campaign
Boston DSA members vote on organizing campaigns to prioritize and focus on every year. Our 2023 campaigns are "We Keep Us Safe: Growing Direct Action, Safety & Security in Our Community" and "Expanding Socialists in Office Committees." Learn more about our priorities and get involved today.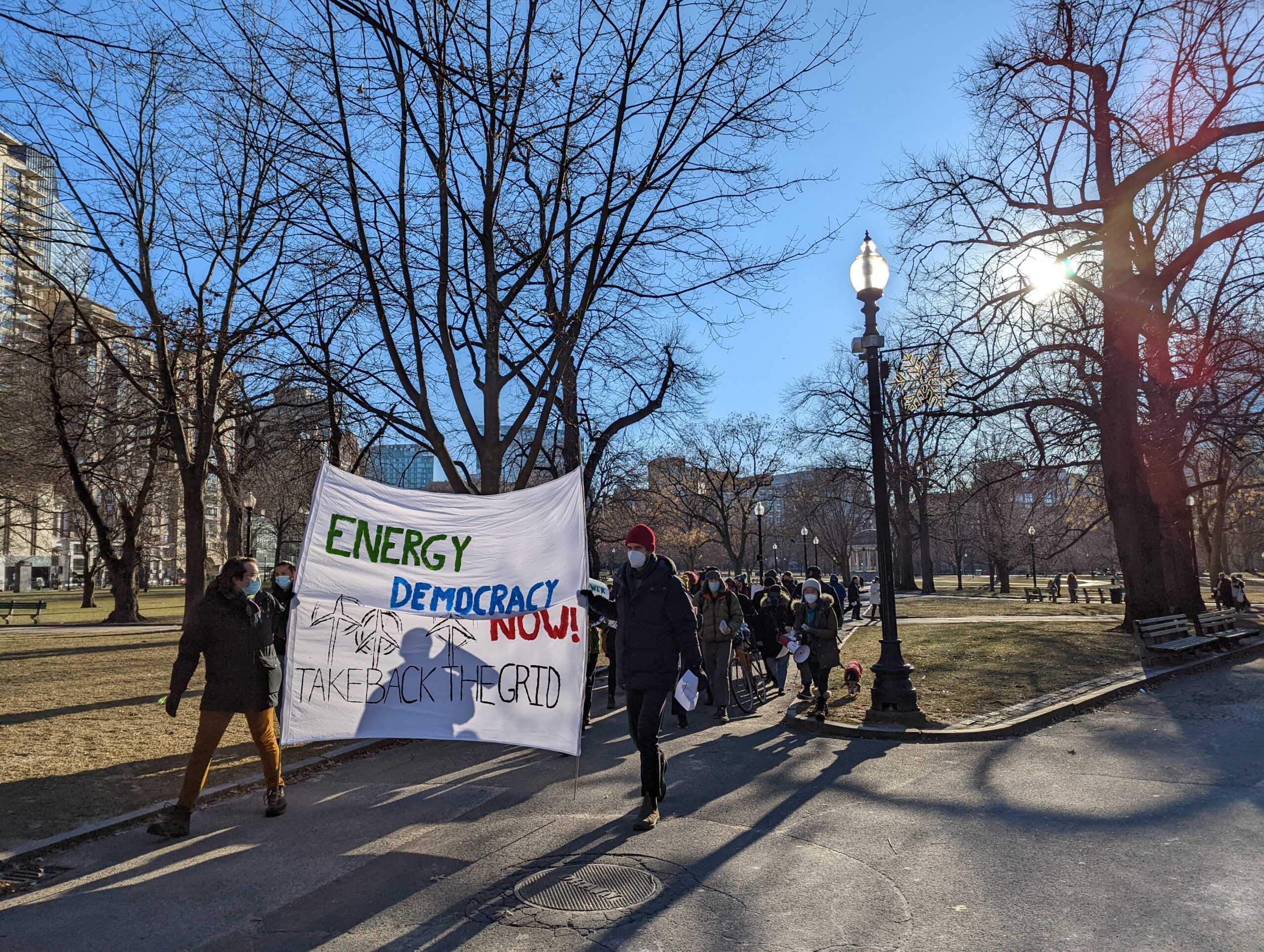 Join a BDSA Working Group
Boston DSA's working groups carry out the external political work of the chapter. Working groups are centered strategies such as labor organizing (supporting striking workers and educators) or socialist electoral politics (challenging the legislative system). Learn about the working groups and find your organizing home within the chapter.
Boston DSA endorses the #NoNewWomensPrison 2023 Campaign Kickoff and State House rally. The campaign kickoff and rally are organized by Families for Justice as Health/The National Council and endorsed by Jane Doe Inc, Our Revolution MA, Mass Peace Action, BIJAN,...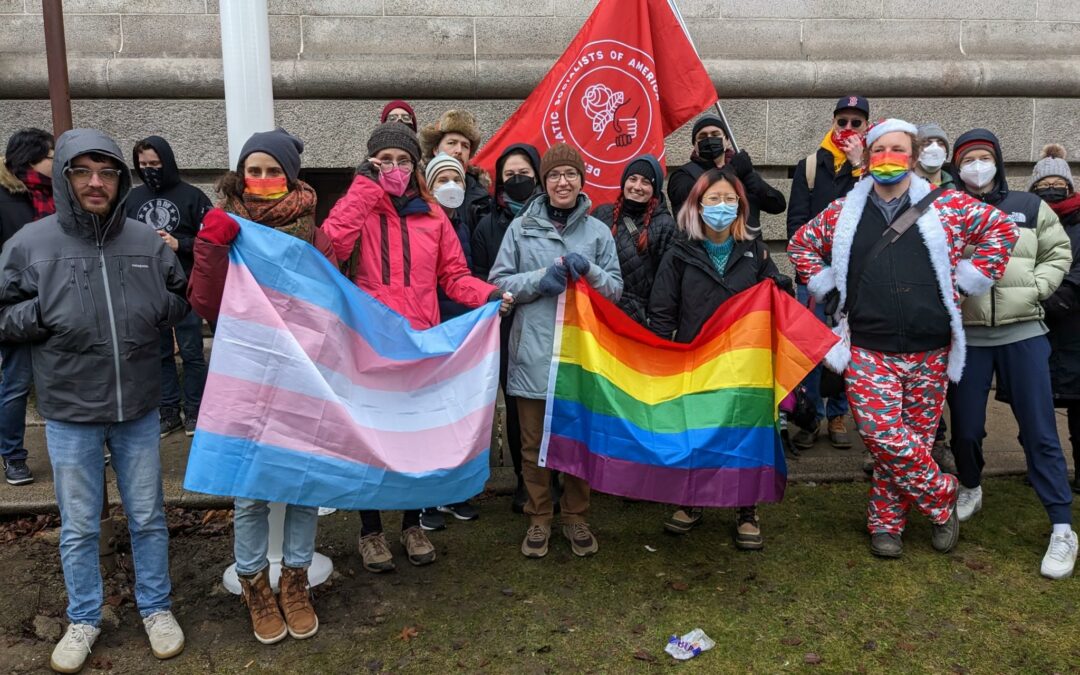 With the selection of the We Keep Us Safe priority for 2023,  your friendly neighborhood DADS (the Direct Action, De-escalation and Security committee) have been busy at work stretching our existing systems of safety and security to other community groups. As you may...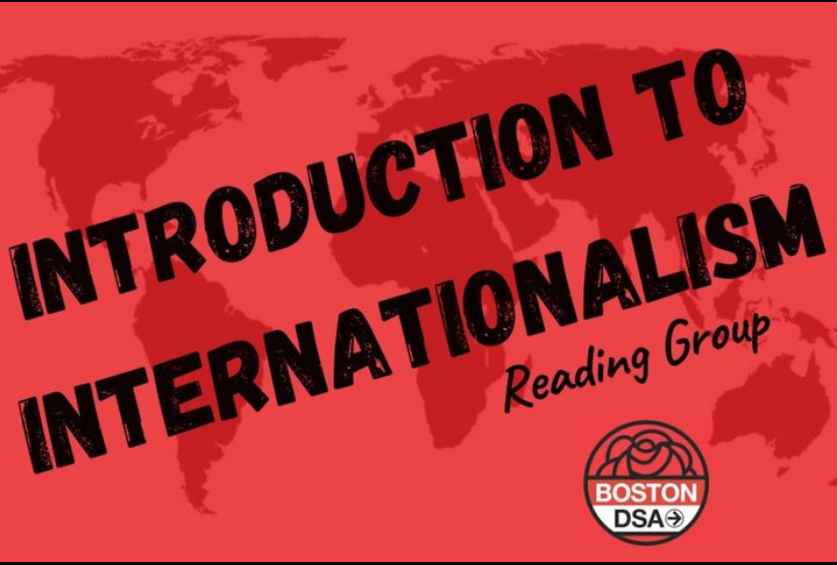 Join the Internationalism Working Group for their weekly Introduction to Internationalism reading group! Learn more about how capitalism is a world system, the institutions of control involved in imperialism today, and how we can come together and fight capitalism on...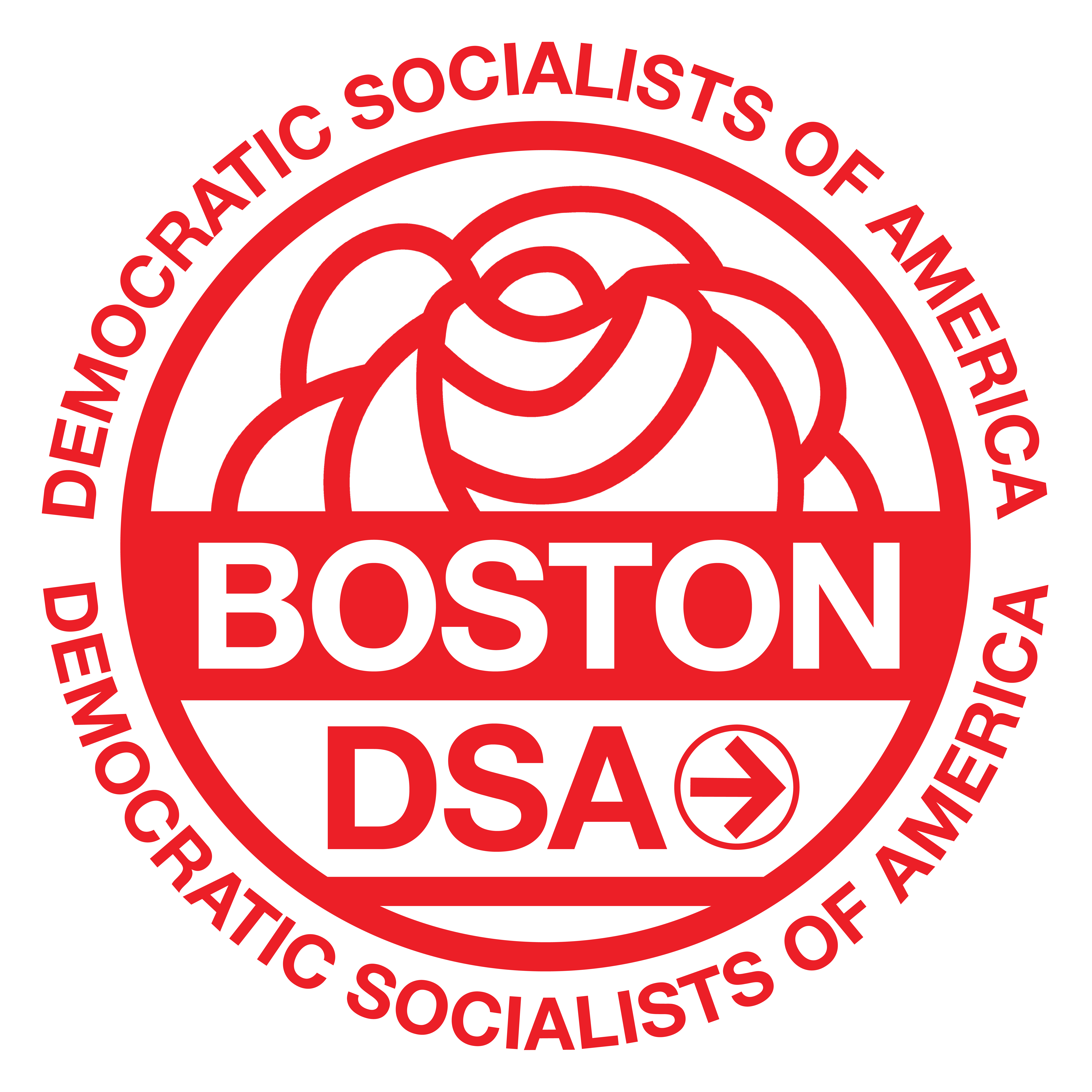 After voting among three options this past month, the results are in: Boston DSA members have selected our new official logo! The selected logo is based on common MBTA signage. What self-respecting socialist doesn't love trains and public infrastructure?
PEWG Monthly Meeting

March 30, 2023 @ 7:00 pm - 8:30 pm
Boston, MA

It's in making decisions that we learn to decide." - Paolo Friere, Pedagogy of Freedom

Boston DSA's Political Education Working Group meets on the last Thursday of every month at 7 pm, unless we have to move it for a holiday, which happens more often than you'd think.

PEWG's goal is to provide our members with the theoretical knowledge and practical skills to organize effectively and strategically, and to educate the wider public on DSA's vision for a socialist future and the often-erased leftist movements of the past. PEWG hosts a number of ongoing projects, such as the chapter's political education blog (bostonpewg.org), our Socialist Night School series, and periodic New Member Reading Groups (abcsofsocialism@gmail.com). We also run one-time (or a-few-times) events such as reading groups, lectures, and panel discussions; and work with other working groups in the chapter to run political education events related to their areas of organization.

Working group meetings and events are held over Zoom. You can find our meeting's Zoom link or join the working group's mailing list at https://actionnetwork.org/forms/join-the-political-education-working-group?source=direct_link&

If you have any questions, please don't hesitate to email us at education@bostondsa.org.

https://www.facebook.com/455727266763218

BDSA Candidate Forum w/ Jacob deBlecourt

March 30, 2023 @ 7:00 pm - 8:00 pm
https://us02web.zoom.us/j/82417520613?pwd=UFA4bm1nL0Yva0RrUXgxNHhiMXkwQT09

BDSA Candidate Forum w/ Jacob deBlecourt

Zoom link: https://us02web.zoom.us/j/82417520613?pwd=UFA4bm1nL0Yva0RrUXgxNHhiMXkwQT09

Candidate Questionnaire: https://drive.google.com/file/d/1GF5V-CEKeQmSswRurZiFYlHMvS6DmdJJ/view

Forum Question Submission Form: https://docs.google.com/forms/d/e/1FAIpQLScKp4GV-pHKpgsI4qEE5CJUtpqJTC9dMFMZ_IUYVok46KZBcg/viewform

https://www.facebook.com/908112096906472